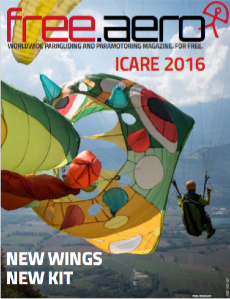 At the end of September the Coupe Icare 2016 was, as always, an amazing spectacle and the biggest showcase of free flying and paramotoring in the world. 
On the paragliding side, the new technology race is clearly on with the ever present SharkNose, or similar, as well as others like mini ribs right down to the EN As. 
The EN B category is more and more sought after, the manufacturers offering wings which are very honed and with very high performance. The Nova Phantom, an EN B with 99 cells and at the modest price of 6500€, is an extreme example. We visited most of the stands.  
Choose the format which suits you best from the list:
HTML average resolution, quick display
PDF average resolution (23 MB)

External reader Issuu
And of course you can also read it on one of our exclusive applications: Free Aero Magazine